Grade Playing Cards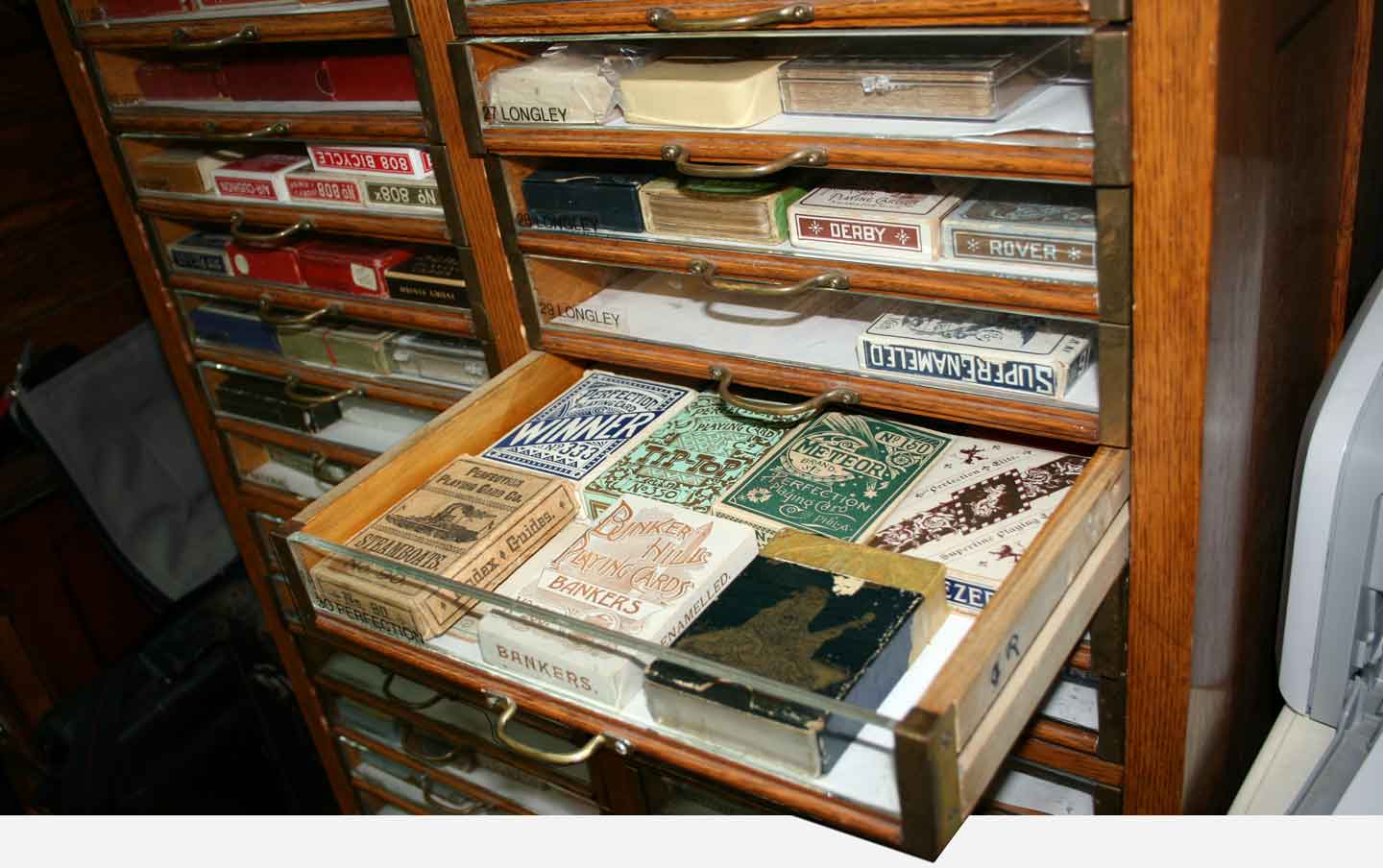 Conditions of Playing Cards
"These descriptions were developed by Mr. Gene Hochman at the time of writing the original volumes of the Encyclopedia of American Playing Cards and have stood the test of time." - Thomas Dawson
An Interview About Grading Cards
Listen to a short interview with playing card experts Tom and Judy Dawson, as they casually talk about how to grade your playing card collection.

LISTEN TO THE INTERVIEW HERE - Listening Time 5:29

These two authorities are responsible for finishing Gene Hochman's work cataloging American playing cards, card makers, details, types, and brands of playing cards from the late 1700s to the early 1930s. They're also members of the internationally acclaimed 52 Plus Joker Organization.
Playing Card Conditions:
Published with permission from the Hochman Encyclopedia.
As Issued: A complete deck, in mint condition, with all cards, jokers and extra cards contained in the original packaging when first distributed for sale. It might be unopened packaging when first distributed for sale. It might be unopened or carefully opened for examination, but not necessarily unbroken, would be attached.
Mint: A complete deck showing no signs of use. Normally all cards would be present as would the original box in mint or near mint condition. The inside wrapper would not be there.
Excellent: A complete deck that has been occasionally used, but still in first class condition. Gold edges would still be intact and you would be proud to use this deck in your game.
Good: A complete deck showing signs of repeated use, but still usable. There would be no serious creases or bent/broken corners. The deck would not be swollen or misshapen and would fit comfortably into the original box.
Poor: A deck not good enough to fit into one of the above categories. It likely would have at least one of these serious faults - bent or broken corners, bad creases, heavy soiling, etc.
With Faults: A deck in one of the good to as issued categories, but with serious faults such as a missing or damaged card or a damaged, incomplete or missing box.
Love Playing Cards? Join the Club!
Whether you're an experienced collector or a newcomer to the world of playing card collecting, you're encouraged to join 52 Plus Joker - The American Playing Card Collectors Organization.

Membership benefits include: receive quarterly newsletters about collecting playing cards, meeting other playing card collectors who share similar passions, attending national conventions, participating in the two main auctions, and most importantly gain access to historical research, receiving advice & direction from the other members. These alone are worth the price of admission.
Please visit their official website to find out about becoming part of 52 Plus Joker's organization..