2017 Jerry's Nugget Playing Cards For Sale - TBA
Possibly in 2017, you will be able to purchase authentic 1970s Jerry's Nugget playing cards. Please stay tuned for more information.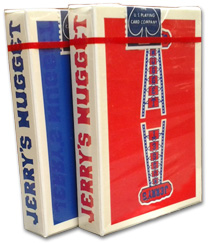 How Did Jerry's Nugget Playing Cards Gain Their Cult Status?
Originally printed in Cincinnati, Ohio, by the US Playing Card Company, these playing cards were made in 1970 for the Jerry's Nugget casino gaming tables.

These highly-prized playing card eventually sold out in the early summer of 1999. Jerry's Nugget Casino does not have any plans to reprint the playing cards, nor could they recreate the process to make them again.
WHY ARE THESE CARDS ARE SO VALUABLE?

Download the Jerry's Nugget Playing Card Care Guide
Keeping your Jerry's Nugget playing cards in the best condition possible doesn't have to be difficult. Some simple changes to your handling habits and routines can drastically improve their lifespan. This short guide will teach you how to do just that.
DOWNLOAD THE JERRY'S NUGGET PLAYING CARDS CARE GUIDE

Learn To Unlock The Jerry's Nugget Hidden Secret
No one really knows when Jerry's Nugget Playing Cards were originally printed -- until now. If it wasn't for this little secret, the exact year of when Jerry's Nugget cards were printed would have gone unknown forever.
WATCH A VIDEO ABOUT UNLOCKING THE HIDDEN SECRET

Spot Fake Jerry's Nugget Playing Cards
Numerous videos have surfaced on YouTube warning others about fake decks and complaing about corrupt Ebay merchants. A simple search on the largest auction site for Jerry's Nugget Playing Cards reveals a plethora of fake decks. Which are bogus, and which are the real deal?
LEARN ABOUT THE FIVE INDICATORS TO SPOT FAKES

Ultimate Act of JNugg Loyalty?
Proud Asher's Announcement member Matt N. (from Brantford, On.) says he's had his J Nug skin-art on his left forearm for almost a year, and displays it where ever he goes. His goal is to finish the design within the next year as well as acquire several more Jerry's Nugget decks for his personal collection.