When I arrived at Tannen's, Lee, Aaron, and Nate were standing around at different counters in the shop, wowing the remainder of the crowd with their magic. Lee was popping the eyes of a young group of New Yorkers with his Ambitious Explosion. He proceeded to draw a larger group as he moved the magic up to his chest, and performed his new version of Three Fly called 3 Stylin'. It's the technically easiest version of Three Fly I've encountered.

I caught Nate Kranzo demonstrating his trademark Stone Purse routine, and Aaron Fisher finishing off a trick with his impeccable half pass. The crowd seemed impressed by all three of them, and it was easy to understand why.

After the event was over, we headed off in search of a cab. It was, as you might expect of New York, quite futile. We were all wishing that we had the stretch limo that carried Lee, Nate, and Aaron to their hotel from the airport (it was a special treat for Kranzo, as it was his first time in NYC). When we finally did arrive at the hotel, it was obvious that all three of them needed a rest after two days of lecturing and performing magic. Even the great card magicians need a break sometimes. Besides, there would be plenty of time for magic later.

Lee's mother also happened to be in town visiting. While we waited for her to arrive to go eat dinner, we spent the time sitting around and catching up on what had happened since the last time we had all been together at the 2001 SAM convention. Thinking about that convention brought back a lot of interesting memories, like wandering around the dealers' room dressed in the hotel's bathrobes. Don't ask.

Nate, better known to 1980s B-horror-movie buffs as Kranzilla (star of such classics as Kranzilla 1985 and Kranzilla Vs. Mechakranzilla), made me an official member of the underground Kranzilla society by bestowing a Kranzilla fan-boy T-Shirt upon me. Very Retro!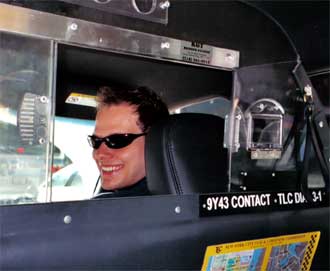 When Lee's mother finally showed up, deciding which restaurant to go was no easy task. While we sat around trying to decide, Lee gave his mother a copy of 3 Stylin' to give to his dad, who, in case you didn't know, is also a magician. His mom was curious about the trick since she wasn't used to seeing anything not relating to cards coming from him, and asked to see it. She was quite impressed. As you probably know, impressing family members after being in magic for more than a year is quite an accomplishment. Not bad for a card guy tackling a coin trick.

Approaching starvation, we decided to head off to Little Italy in search of a restaurant. We plopped ourselves down outside the infamous Umberto's. Aaron was struck silly when he realized that it was infamous for being the site of the hit on mobster Crazy Joe Gallo, who, as Aaron was quick to remind us, was immortalized in Bob Dylan's "Joey". While waiting for our food to arrive a pair of sexy twins from Minneapolis celebrating their 21st birthdays, along with their mother, sat down at the table next to us. They struck up a conversation with Lee's mother, wondering where we were all from. She told them we were in town visiting Lee who was giving a magic performance this weekend. Nate, Aaron, and I, felt neglected. From the twins' intentionally audible, yet not enough to seem intrusive, comments, it was obvious they wanted to see some magic. Lee, however, didn't have a deck of cards. Nate and I fared no better, having also left our decks in the hotel. Aaron came to the rescue, whipping out his pristine deck of cards. Lee performed several of his creations to audible gasps. After his brief set, he returned to our table and handed the deck of cards back to Aaron, telling him he no longer had a Queen of Hearts. Giving Lee a thou-hast-just-engaged-in-a-cardinal-sin look, Aaron asked Lee to find a way to retrieve the card. Lee told Aaron not to worry, as he had exchanged the Queen of Hearts for a napkin containing one of the girl's cell phone number. Aaron seemed nonplussed and vowed never to lend him another deck, as he was prone to, in Aaron's words, "laymenizing cards."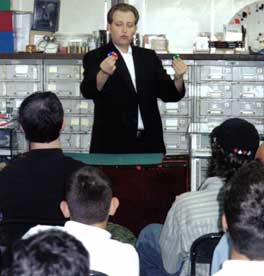 After dinner, we tried to figure out what to do for the rest of the night. Unable to decide, we turned to what seems to be the default for cardmen everywhere: have a session. It was bound to happen eventually. Lee showed some of his latest work with Pulp Friction, Nate performed some tricks with his new product Heather's Rattle (a great coin rattle if you're in the market for one suitable for performance). Aaron showed some of his latest work with the technique he originally demonstrated on Hit The Road – a technique that created quite a stir when that video was released. I demonstrated a routine incorporating a new idea in estimation.

We all decided we needed some fresh air, so we wandered outside, aimlessly into the streets of New York. We made our first stop at a bar. Nate decided that he should call the twins and try to get them to come out with us. While he claimed that this was purely in effort to show them a good time, so they didn't have to hang with their mother the whole time they were in New York, I was pretty sure it was really a valiant attempt to retrieve  Aaron's Queen of Hearts.

I would like to describe how one of us had just enough to drink to make a fool of himself, but sadly no such thing happened. Instead, we talked about movies, with subjects ranging from the best movie of the past year, to wondering about Scorcese's new found fascination with Leonardo DiCaprio.

After a few drinks, we went to Carnegie Deli so Nate could have an egg cream, which he wanted to try based on Lee's exotic description (there are no eggs in an egg cream). Living in Michigan has not allowed Nate to sample such specimens of culinary accomplishment. When I went to Michigan several years ago to visit the American Museum of Magic, I had the worst slice of pizza I've ever had, so I can understand why Nate wanted to try as many things as he could while he was in New York. The egg cream and the slice of pizza that ensued knocked us all into a food-induced coma.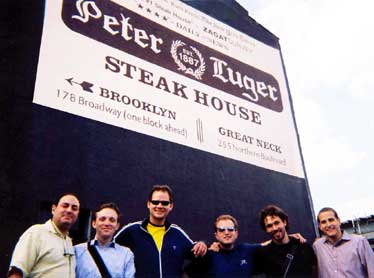 When we woke up the next day, we quickly got ready, in fear of missing our reservation at Lugar's. For those of you who don't know, Peter Lugar's is a famous steakhouse that gives an experience that, according to Lee, was "not to be missed." Lee had been raving about Lugar's to Aaron for years, and the day to try it out had finally come. Even though I don't eat steak, I felt that it was an event of such massive proportions that I would be kicking myself if I missed it. At the restaurant, we were joined by David Kaye, better known to many as that crowned prince of children's magic Silly Billy (whom I also hadn't seen since the 2001 SAM), and bordering-on-being-an-ex-magician Micah Lasher (whom I met for the first time). It was definitely an "experience" to say the least. I'll refrain from describing it, so that if you ever happen to be in NYC and want of steak, you can be just as astonished as I was.

By the time lunch was over, I had to catch a train back to Philadelphia. I really wished I could have stayed longer, as Lee, Nate and Aaron were meeting up with David Roth and Geoff Latta later that night. We all said our goodbyes, and hoped that the next reunion wouldn't be so far away.


Join Lee Asher on antother adventure by clicking here.