2007 Special Guest: Master Magician Wayne Houchin (inventor of Coin in Soda Can, Stigmata, and Indecent)

Sorcerer's Safari is the brainchild of Magic Mike Segal, a Toronto-based magician who has been performing and teaching magic for more than 20 years. "I'd had the idea for a long time," says Segal. "I wanted to give something back, and unite the magic community a little. A good friend convinced me to get a bank loan and get it going."
That year, 1996, the program was for day campers only, and there were only a few of them. Then in 1997, ten eager magic enthusiasts joined Mike, his wife Jen, and a few keen staffers at Camp Tamarack.
Each year the number of campers and staff doubled until just five years later, in 2002, the group grew to 150 campers, 10 counselors, and a roster of 30 instructors and special guests, including Texas magician and IBM Gold Cup winner Oscar Muñoz, card guru Lee Asher, FISM champion Greg Frewin, and Toronto-based Glenn Ottaway. Since then, Hatfield, Gregory Wilson, Dan Harlan, and Aaron Fisher have also performed and taught. Segal is quick to credit the support of the magic community for the camp's success. "I'm amazed that people are willing to do it. It's so much more than the sum of its parts. It wouldn't be what it is now without everyone's help."
The camp boasts an impressive retention rate: at least 90 percent of last summer's campers were there for their second time. Of the original ten, three are still coming to the camp, and many have grown and gone on to professional pursuits.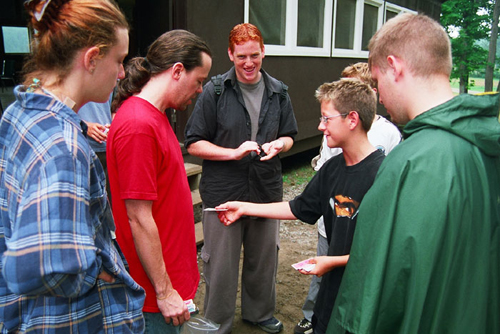 This year, Sorcerer's Safari runs from August 24 to August 31st, 2007. Boys and girls ages eight and up are invited, though more boys than girls typically register, at about a three-to-one ratio. The cost varies from year to year, but Segal says it's more affordable than any comparable program, of which, for the record, there are few. "And it's in Canadian dollars," he adds. "We just charge enough to cover all our costs —insurance, camp rental, special guests' flights, busses, etc. The staff is all volunteer." Those 16 and 17 years old who have been to the camp before are eligible to work as counselors-in-training, otherwise, CITs must be 18 years or older.
Numbers have been holding at 120 for the past few years — the maximum camper number for White Pine. Segal is confidant Sorcerer's Safari's new home will continue be a draw. "I've always wanted to use this facility," says Segal, who ran the drama program at White Pine for three years as a teenager. "The stage — look at it! We are in the middle of a forest! — the food, the senior staff that I have to deal with are all very accommodating." White Pine was even used as the location for the classic camp movie, Meatballs, starring Bill Murray.
Kids can learn magic at conventions and day camps, but Segal believes the outdoor setting is key to the camp's success. "At camp, everyone is an equal," says Segal, repeating the oft-heard staff motto: check your egos at the front gate. "In the magic world, where everybody has such strong personalities, that's a major feat. Nobody has any special privileges, from the FISM champ to the local birthday party guy. If we were at a convention, the magicians wouldn't really drop the façade; they'd leave, they wouldn't be social."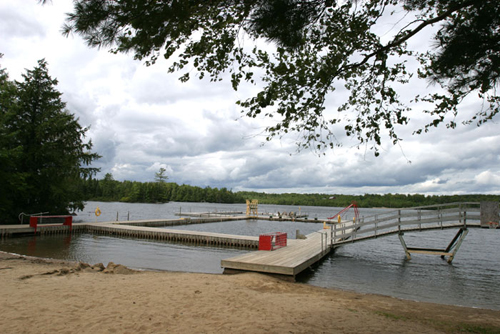 Indeed, professional magicians seem to get a charge out of watching a camper perform a card trick, new or old. Clusters of campers and staff gather outside the dining hall before meals or at the canoe dock in informal "jam sessions," showing their newly acquired skills, or gawking in amazement as one of their idols shows them a perfect pass. And learning magic can be, if you'll pardon the expression, magical. Shy kids seem to find a voice. Outgoing kids seem to find a way to channel their enthusiasm. One special needs camper who has been with the camp almost since the beginning screws up his courage each year to perform. The look of pride on his face when his trick works and the supportive audience cheers him on is priceless.
"Magic has helped me in so many ways," says Lauren Proctor, a high school student and performer from Toronto who will be returning to Sorcerer's Safari for her seventh year this summer. "It is the perfect icebreaker. I was at my friend's birthday party in the spring and there were about a million people there. I only knew half of them, and somehow it got out that I did magic. Pretty soon I was with 75 percent of the people stuffed into one little room. When my friend asked some people what their favorite part of the party was, they said, 'The girl with the cards.' I love magic because everyone knows it, everyone tries it, but no one does it."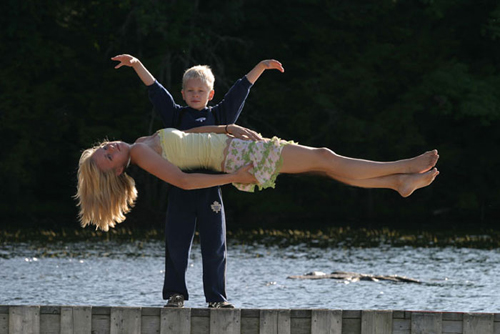 Like any camp, there is a schedule. Campers begin each day in Cards — an hour of tricks and shuffling techniques that form the foundation for many young magicians. "I love card class," says Proctor. "Everyone loves card tricks because it is something everyone can relate to. It is fun to share tricks and see different magicians' performance technique when it comes to cards. Everything you see you absorb to make your own style."
Next, campers head to one of four traditional camp activities: canoeing or kayaking, camp favorite Capture the Flag, or swimming at the beach waterfront. "I can't even explain how much fun a whole camp swim is," says Proctor. "It gives you a chance to hang out with all the campers, make sand castles with the younger ones, have swim races with the counselors, push Steve Kline in the water — full camp swim is awesome." Kline, an Ohio-based magician, is the camp's go-to guy, and has been with Sorcerer's Safari for more than five years.
After a kid-friendly but healthy lunch, campers head to one of their two chosen electives for the week, such as Dancing Cane, Cup and Sponge Balls, Linking Rings, juggling, or Zombie ball. There are also workshops on stage tech, marketing, and restaurant magic.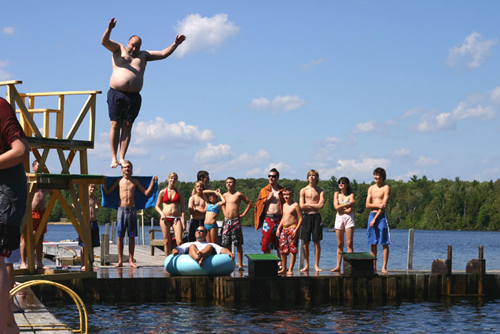 The afternoon is rounded out with a performance workshop, where campers perform a   trick and the instructor and other campers offer constructive criticism on the performance, rather than the trick itself. This is a key part of the camp program, providing an opportunity for campers to really cut their performance teeth in a supportive environment. "They teach the kids what they can't learn in a book," says Segal. Instructors will often lend their particular expertise to topics such as working with audience volunteers, running and striking a show, or doing table magic.
"I've learned lots of performance tips, how to be original as a performer, and how to feed ideas off each other in a group," says Nathaniel Rankin, 17, a four-year veteran of the camp. "I enjoy being around the professional magicians and getting constructive criticism and support from them."
Rankin, who also juggles, won gold at Magi-Fest and the Canadian Association of Magicians Competition, both in 2005. He's not the only impressive camper in the lot. Scotty Hammel, now age 21, was one of the first CITs, has been an instructor for fours years, and holds the world record for highest suspended straitjacket escape. Edmonton's Sheldon Casavant, 20, won a PCAM scholarship in 2003 to attend the camp his first year, then returned for a second summer as a CIT; in 2005 he worked in Japan. Then there's Bilaal Rajan, a spunky ten-year-old, who single-handedly led a tsunami-relief effort with UNICEF Canada to raise more than a million dollars.
Each night finishes with a stage show in the camp's well-equipped theater. Two, three, or sometimes even four professional magicians hit the stage for an evening that rivals most cruise ship entertainment. Though the audience may know how many of the tricks are done, they appreciate the artistry each performer brings to the material.
While the focus of the camp is definitely magic, Segal likes to think of it as a performing arts camp, with magic being just another outlet for the stage. "The scope of instruction at the camp is toward performance," says Segal, who has a BFA in theater from York University in Toronto and a career that began in high school with sweeping up after Doug Henning on the set of The Magic Show. "If all a kid wants is to learn secrets, they can do that on their own. But we really teach campers how to present magic. That's what you can't get from books." It is such a well-respected approach that many of the staff, including Greg Frewin, send their own children to the camp.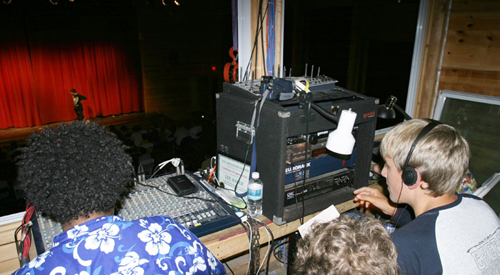 The camp works for beginners as well as more accomplished magicians, says Carey Lauder, a Winnipeg photography teacher and magician who is returning this summer to teach magic for his eighth year. "There is way too much magic to learn in the week of camp, so if a camper comes away with a couple of new tricks, some improvements on tricks they now do, some help in stage presence, and a few new friends, we have done our job."
Calgary-based Murray Hatfield often features Sorcerer's Safari campers such as Rankin on his cross-Canada tour, and finally had the chance to come to the camp two years ago. "From the moment I landed, it was a magical experience," he says. "It combined the best of summer camp and a mini magic convention with hands-on, one-on-one training from some exceptional magicians. I can't even begin to guess what it would be like being a brand new magician, 10 or 12 years old, and to have access to someone like Lee Asher or Aaron Fisher or Dan Harlan or Nathan Kranzo. The benefits are too numerous to count." Hatfield was so impressed he returned for another year, and indulged campers singing "Happy Birthday" to him, even for days after his actual birthday. (It became a running gag - ahh, camp humor.)
Asher echoes Hatfield's sentiments. "I think Sorcerer's Safari offers children life skills. After a week of intense training up at Sorcerer's Safari, these children leave with abilities they never dreamed of possessing. They understand how to look at the construction of a routine, and then understand its reasoning. Some of the older children leave with fresh marketing plans and novel approaches for obtaining new gigs in the real world."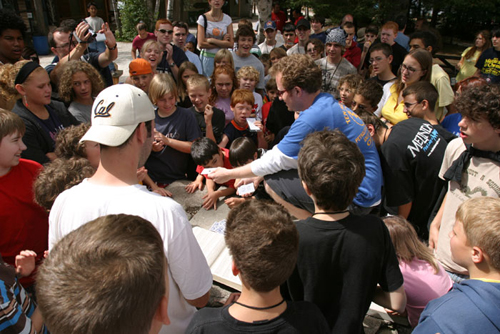 As an instructor, Asher strives to teach the intangible: judgment. "They are going to learn lots of magic in their time," he says. "Why not teach them how to pick and choose magic according to what's best for them instead of selling them the latest fad? I try and teach them to find themselves as artists, as individuals.  I consider my class tough, and you learn very little magic. Each year I'm scared to teach it for fear they aren't ready. And each year, I am pleasantly surprised." Asher will make the long trek from Oregon for his sixth time this summer, but feels it's worth it. "It's a chance to help define the future. I've always been an advocate for youth in magic. As a respected elder in the magic community, either I can sit back and complain about how magic is going down wrong avenues, or I can go to camp and help to change it."
"As much as [Sorcerer's Safari] is a holiday, it is not, but it still is," says Lauder. "I greatly enjoy magic and the passing on of my knowledge to others. It is a blast to meet up again with those friends year after year. I enjoy learning, too, and hanging out with the special guests that Mike brings in."
It's the end of the week, the campers' turn to shine. At last they can pull together everything that they've learned in a two minute set on the stage. Some campers elect to run the show, on stage or in the sound booth. And some decide to take it all in. "We see results in the stage show," says Lauder, "and see how the campers' magic has improved since last year."
Lauren Proctor and her cabin-mate, Rosemary Reid, wait excitedly in the wings. As veteran campers, their magic has come a long way, and this year they have designed an act that combines Proctor's convincing Multiplying Ball routine with Rosemary's talent for juggling. Earlier in the week they consulted with Cynthia Martin, part of family magic act Majinx, who gave them valuable feedback about their choreography.
Though they'll only be on stage for two minutes, the act is a departure from their usual shtick. But they are warmly received by the campers and staff — another successful performance. 
"It is so much fun to perform at the show," says Proctor, "and show all your friends at camp what you can do. Of course, I still get nervous and my hands shake and sweat, making it difficult to make the balls multiply, but it's good getting nervous. You want to do a good job, to make the instructors who taught you everything proud. It feels so good when people tell you how proud of you they are."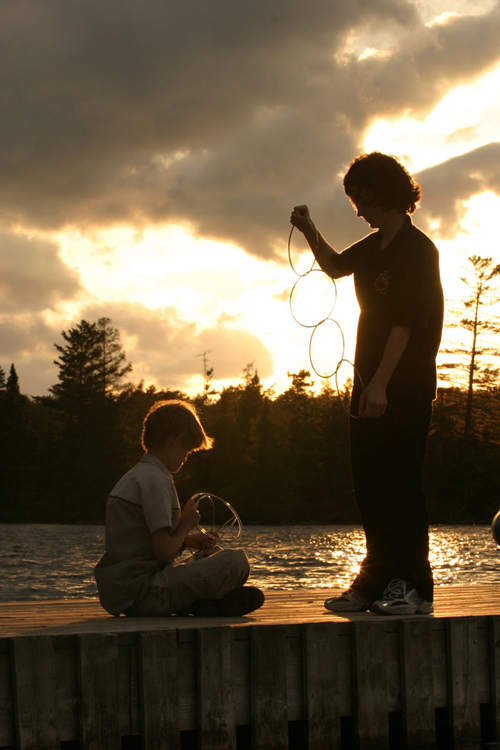 After 38 acts have taken the stage, exhibiting everything from card tricks to D'Lites to more involved illusions and routines, the show comes to a close, and the performers take a curtain call on stage. As the lights begin to fade up, Magic Mike takes the stage in his humble way to a round of warm applause and cheers. It's time to pack up, and campers and staff are already making their plans for next year.
---
Although Janice Biehn has seen hundreds of magic shows - from birthday parties to cruise ships - for the past 20 years she has worked as a professional writer. She is currently editor of The Health Journal.


All photos by Carey Lauder
This article appeared in MAGIC magazine's May issue, 2006