Lee Asher Japanese Lecture Tour 2009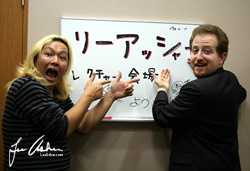 Join me as I travel all over Japan on lecture tour. In the span of this special trip, I give fifteen (15) lectures in thirteen (13) days. Scroll down to watch all 5 parts.

Be my travel partner as we visit exotic locals, eat extreme delicacies, and watch awesome magic all while trekking around Japan. We are going to have a great time, but most importantly - we are going to live the CardStar Lifestyle! (Shot with a FLIP MinoHD video camera.)

Take a moment to look though all at the photos tweeted during this trip.


List of the cities where the CardStar Lecture Tour appeared:


- November 11, 2009 - Chiba City
- November 13, 2009 - Komagome
- November 14, 2009 - Yokohama and Tokyo
- November 15, 2009 - Ikebukuro
- November 16, 2009 - Tokyo
- November 18, 2009 - Shizuoka
- November 19, 2009 - Hamamatsu
- November 20, 2009 - Kanazawa
- November 21, 2009 - Nagoya and Osaka
- November 22, 2009 - Okayama and Hiroshima
- November 23, 2009 - Yamaguchi and Fukuoka


*

Special thanks goes to my friends Ken Kurita and Shigeo Futagawa. Without these two gentlemen, this tour could not be possible.
---
The Five-part, video extravaganza begins now...
Part 1
In Part 1 you will see things like:
-Flying to Japan
-Shabuya: the fashion district
-Tsukiji Fish Market (best sushi in the world!)
-The Prestigious Ginza
-Fugu (deadly blow fish) Dinner with Hiro Sakai (Dr. Leon)
-Eating Fish Sperm. That's right, you read that correctly.
-Hanging out at the Point Magic Bar (oldest magic bar in Tokyo) on the Ginza
---
Part 2
I
n Part 2 you will watch things like:

- Spending time at Tokyo Disney
-Visiting MagicLand (one of the greatest magic shops in Japan)
-Snippets of several lectures
-A Three Stylin performance in Komagome
-Tokyo suburb travels
-Bad pronunciation
-A Deadliest of the Male performance in Ikebukuro

---
Part 3
Quick Table of Contents for Part 3

-Mama say...mama saw... Asakusa
-Rickshaw ride with tons of history
-Traveling to Shizuoka Prefecture
-Riding the Shinkansen
-Monday Night Sumo on the television
-Magic Bar NOT
-Traveling to Hamamatsu
-The Eel Meal
-Slurping the Noodles
-Traveling to the Kanagawa Prefecture
-The Ninja House (without Ninjas)
-Japan honors me with the name change of a high speed train
---
Part 4
Quick Table of Contents for Part 4

-Nagoya Magic Lecture
-Train to Osaka (on the floor)
-Lecture at the World Famous French Drop (Osaka)
-How to eat Shabu Shabu
-Lecture in Hiroshima
-Asher Twist audience reaction in Hiroshima
-The true delicacies of Hiroshima (w/ Dr. Watada)
-How to park your car in Japan
-Sight seeing in Hiroshima (Peace Museum)
-Yamaguchi Lecture
-Sho-san displays his AMAZING retention pass


---
Part 5
Quick Table of Contents for Part 5

-Traveling to Fukuoka
-Watching Mr. Futagawa (different than my translator) the Japense Demo man
-Watching the Sumo finals LIVE!
-Eating Whale Skin
-At the Fukuoka lecture signing notes
-Back in Tokyo with Satoshi and Shigeo for the last night
-An Asher Twist lesson at the 12 o'Clock Bar with Kiyono, Yuki and Nishio.
-Thundebird performance after midnight.
-One more thing to do before leaving Japan
-The End

*Bonus section of Karaoke with Hiro Sakai and gang // WE WILL ROCK YOU!
Don't forget to take a moment to look though all at the photos tweeted during this trip.

- - - - - - - - - - - - - - - - - - - - - - - - - - - - - - - - - - - - - - - - - - - - - - - - - - - - - - - - - - - - - - - - - - - - - - - - - - - - - - -

LIVE THE CARDSTAR LIFESTYLE