Jerry's Nugget Brick Lotto sign-up: March 2010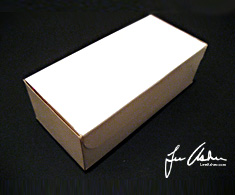 In an effort to alleviate some of the heavy traffic from the server, on March 15th, 2010 at 4pm EST, the one factory sealed brick
will be sold
beforehand, lottery style.
- - - - - - - - - - - - - - - - - - - - - - - - - - - - - - - - - - - - - - - - -
March 2010's price of the authentic [As Issued] 1970 brick (12) of Jerry's Nugget Playing Cards price tag is
$4,275.00 USD
.
NOTE: THIS LOTTO IS NOW OVER.
- - - - - - - - - - - - - - - - - - - - - - - - - - - - - - - - - - - - - - - - -
If you have any interest in being the proud owner of this exquisite piece of playing card history, please carefully read the following instructions below.
HERE IS HOW TO ENTER:
Send an email containing your name, email & mailing address to
brick@leeasher.com
. That's it. Now you just have to sit back and wait until you're contacted. Chosen or not, either way, you will be notified. If your name is selected, payment for the brick must be made within 24hrs of notification.
- - - - - - - - - - - - > > >
NO MORE ENTRIES. THIS LOTTO IS NOW OVER.
< < <
- - - - - - - - - - - -
---
Why is the LA.com brick worth more than others?


In the past, several authentic bricks have been sold on ebay from reputable sources. However, either the sellers chose to open the brick for photos (like the ones pictured to the left), or took twelve random sealed decks and stuck them in a box, to create the illusion of  an original brick. While this is fine, and would make a wonderful addition to any playing card collection, it's not like the factory original brick for sale here.

What is of incredible value here is to own something that can NEVER be recreated again, on so many levels. These are not just 12 decks, this brick is a true and rare piece of playing card history.



Jerry's Nugget Playing Card brick history



On a cold day in 1970, the presses, cutters and cellowrap machines came to a rest at the factory in Cincinnati Ohio. A worker carefully hand-packed six red and six blue decks of the last white brick of one dozen Jerry's Nugget playing cards. The tuck flap was glued shut, the brick was placed with 11 others in a specially manufactured cardboard shipping case and eight solid brass industrial stapes were used to seal the top and bottom flaps.

The case was shipped from Ohio to North Las Vegas Nevada where it sat in darkness for more than a decade, when a collector with foresight invested in several such cases of Jerry's Nugget playing cards, and had them shipped to a acclimatized storage facility where they now await one lucky collector's call.

One person, with the same taste and vision as the original collector, will be the proud and lucky owner of this pure white brick of 12 perfect decks of Jerry's Nugget decks. These cards have literally never seen the light of day, since they were manufactured, boxed, wrapped and lifted into their white custom cardboard case, the flap still sealed as safe and secure as the day they left the US Playing Card factory.

Almost anyone can acquire one of the finest decks of cards ever made, all they need are the funds and the drive to find an authentic pack and a trusted seller.

Yet it is near impossible to find a Mint Condition Original Brick, still factory sealed, containing 12 perfect packs of Jerry's Nugget Playing cards.
- - - - - - - - - - - - - - - - - - - - - - - - - - - - - - - - - - - - - - - - - - - - - - - - - - - - - - - - - - - - - - - - - - - - - - - - - - -


One lucky person, somewhere on the planet, will make the impossible come true when just such a brick becomes a valued prize in their personal collection. Will you be that lucky person?



---
FAQs about the March 2010 Jerry's Nugget Playing Card Brick for sale
Below, you'll find the ten most frequently asked questions (in no particular order) along with the answers. If you have any questions about the Jerry's Nugget Playing Card brick,
please email me
.
1. What does [As Issued] factory sealed mean?
As Issued means the brick is complete, in mint condition, contained in the original packaging when first distributed for sale.
Read more about playing card conditions, click here.
2. Are these authentic 1970 Jerry's Nugget decks?
Yes. The brick being sold is genuine. Be assured that you are purchasing twelve real packs of Jerry's Nugget Playing Cards, factory sealed.
3. How many decks of cards are in a brick?
There are twelve decks in a brick. Specifically, this brick comes with six red decks and six blue genuine 1970 Jerry's Nugget Playing Card decks.
4. Lee Asher, will you be picking the person who gets to purchase the brick?
To make this lottery completely fair, a third party will randomly draw the name from a hat. Good luck to everyone who participates.
5. Does this brick come with a certificate of authenticity?
The brick will be accompanied by a certificate of authenticity.
6. Will the brick be shipped with insurance?
The brick will be shipped with insurance anywhere in the world (
except Malaysia
).
7. Can I reserve the brick?
Unfortunately, no. To be fair to everyone, you may not reserve the brick. Please place your name in the lottery if you have interest in owning it.
8. May I send a check, money order, or any other form of cash to purchase a deck?
Sorry, no. You may only purchase a deck using the shopping cart provided on this website. At this time, Paypal and Google checkout are your only two options.
9. Lee Asher, how are you able to get your hands on factory sealed 1970 Jerry's Nugget bricks?
After striking a deal with the world's largest private-reserve owner of Jerry's Nuggets Playing Cards, LeeAsher.com is proud to offer everyone interested, a chance to own J Nuggs.
10. Can't I just purchase a Jerry's Nugget brick on Ebay?
You sure can, but you won't be guaranteed that it's authentic or factory sealed. Buyer beware on Ebay. Please be careful.
---
If you have any questions about this Jerry's Nugget Playing Card Brick Lottery,
please contact me
.