DEUTSCHES SPIELKARTENMUSEUM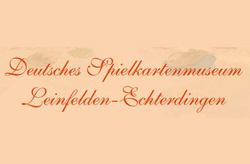 Located in
: Stuttgart, Germany
(see map)
Admission
: Free
This museum was originally that of the A.S.S. playing-card company, formed after World War II from the remnants of the pre-war Altenburger und Stralsunder Spielkartenfabriken (V.A.S.S.) company. The company relocated in Leinfelden, near Stuttgart, and began again to form a museum collection in 1950 by acquiring the collection of 15th and 16th century cards formed by Martin von Hase over a period of almost 30 years.

I
n1972 the A.S.S. museum purchased the collection of the Bielefeld Spielkartenfabrik. This assemblage had a distinguished history of its own: it was founded in 1950 and augmented by the acquisition of the collection belonging to the art historian Werner Jakstein.
Ausstellung im Spielkartenmuseum
Other private collections came to the Bielefelder museum in later years—for example, in 1956, the collection of Indian cards formed by Rudolf von Leyden—until it could count in 1965 approximately 3,500 packs, many blocks and plates, and a playing-card reference library numbering 970 volumes. The purchase of the Bielefelder collection by A.S.S. was followed in 1974 by the official inauguration of the Deutsches Spielkarten Museum in Leinfelden; the museum is now a branch of the Wurttemburgisches Landesmuseum (in Stuttgart). The collection is an important resource for the study of playing-cards of all periods and places, particularly 16th century cards and sheets, 17th century French-suited cards made in Germany, cards of East Asia and India, and 20th century German standard cards.
---