Shade




Directed by: Damian Nieman


release date: March 2004

Shade is set in the world of poker hustlers working the clubs and martini bars of Los Angeles. The tale unfolds as a group of hustlers encounter "The Dean" and pull off a successful sting that results in their pursuit by a vengeful gangster.

click here for more info about Shade.
These are two screen shots from the movie
SHADE
. Jamie Foxx
(left)
plays the character Larry Jennings; Gabriel Byrne
(right)
plays the character Charlie Miller and Stuart Townsend
(middle)
plays the Vernon character.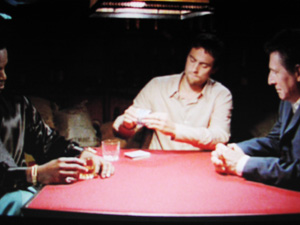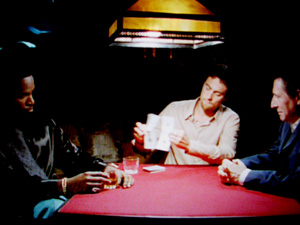 Above, Stuart Townsend is performing my ace production The Ripper. 
 
R. Paul Wilson, second unit director of Shade, called me several weeks prior to the filming of Shade. He asked my permission to teach Stuart Townsend several of my card effects for the movie.
 
"...because they are beautifully visual, easy to learn, and perfect for film and television." said R. Paul Wilson when asked why he chose my material for this movie.
 
My only request for allowing the filmmakers to use my magic was, when I was in Los Angeles, I wanted to watch the outtakes from the day of filming.
 
R. Paul Wilson made it happen --  at the director's house (Damien Nieman).  
 
It was very cool to watch movie star Stuart Townsend perform my magic over and over until it was perfect.
 
Thank you R. Paul Wilson.


---
Thanks to Dan and Dave Buck
The Ripper
also appeared in Smokin' Aces, this time performed by television superstar Jeremy Piven.

Smokin' Aces




Directed by: Joe Carnahan


release date: January 2007



A dying mob boss takes out a $1 million contract on the life of his former protégé, a Vegas magician turned gangster who has agreed to testify against the mob. The FBI attempts to protect their key witness as an array of hit men and women descend on Lake Tahoe in a race to take the magician out.



click here for more info about Smokin' Aces.